Piano 'Ravenchord' designed like a bird's wings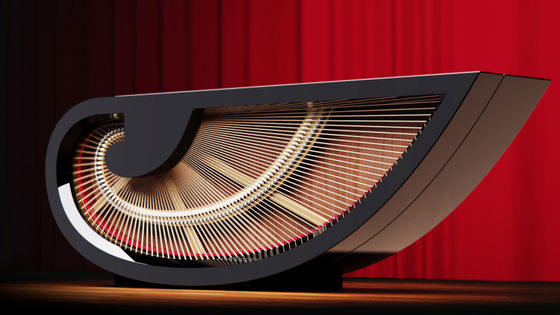 Most modern pianos have similar designs, but a piano 'Ravenchord' that overturns these designs from the ground up has appeared. About Ravenchord, which has been redesigned from the ground up, the whole picture and design concept are introduced.

Unveiling Ravenchord: A Radical Piano Redesign from Dan Harden - Whipsaw

https://whipsaw.com/2023/06/05/unveiling-ravenchord-a-radical-piano-redesign-from-dan-harden/
Ravenchord was created by Dan Harden, CEO of Whipsaw, which is responsible for product design.
When Mr. Harden decided to fundamentally rethink the design of the piano, the biggest design challenge was the 'strings.' The piano has 88 keys, 3 pedals, and about 230 metal strings. It was said that it was a difficult task.
Therefore, Mr. Harden placed the strings in front of the instrument, instead of the strings sticking out in front of the player like on a grand piano, or the strings rising up and blocking the face of the player like on an upright piano. , resembling the shape of a bird's wing.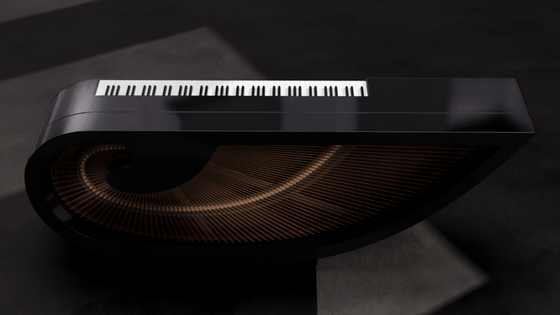 The strings are arranged according to pitch and are arranged in a spiral that extends across the front of the piano. When the pianist plays, the audience can see the internal mechanisms such as hammers and dampers moving in real time. Harden describes this as 'uncovering the piano's inner workings and extraordinary features to make it more expressive and liberating the instrument'.

As for the meaning of the name Ravenchord, 'Raven' proves the cleverness of the instrument, and 'chord' is derived from the piano genealogy such as
clavichord
and
harpsichord (harpsichord)
.
Harden says that you can't reflect the sound on the 'roof' like a general piano, but you can enjoy 'pure tone'. Like a regular piano, the frame can be removed for tuning. The width of the main body is about 213 cm and the depth is about 46 cm. The height from the floor to the keyboard is about 76 cm, which is about the same as a general piano, and the weight is about 227 kg.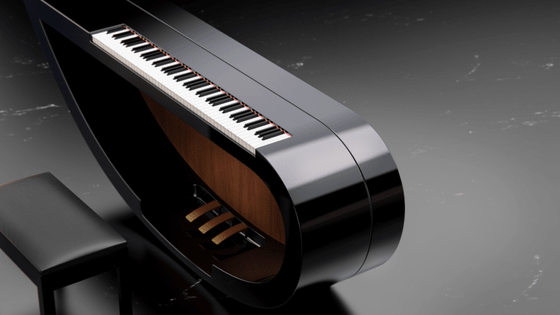 "The idea of making a cultural pursuit a reality was a joy to me," said Harden. "Music is one of life's greatest joys, and designing around it has been a very satisfying experience. By giving the piano product category a new lease of life, audiences can shed new light on the piano, marvel at its intricacies, hear a purer sound and empathize with the performer. ' said.