At the bank, a failure occurred that ``even if the account is Sukkarakan, you can withdraw money from the ATM'', and a large queue was formed at the ATM in the city, and the police were dispatched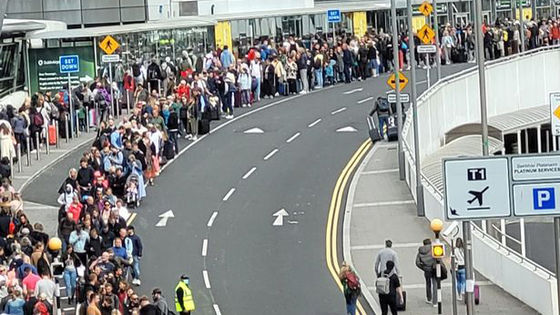 A system misconfiguration at the Bank of Ireland has reportedly allowed customers with no money in their accounts to withdraw money from ATMs. As a result, large queues were formed at ATMs throughout Ireland, causing chaos throughout the city.

Bank of Ireland IT blunder allows customers who have no money get access to cash at ATMs | Independent.ie
https://www.independent.ie/business/personal-finance/bank-of-ireland-it-blunder-allows-customers-who-have-no-money-get-access-to-cash-at-atms/ a510070628.html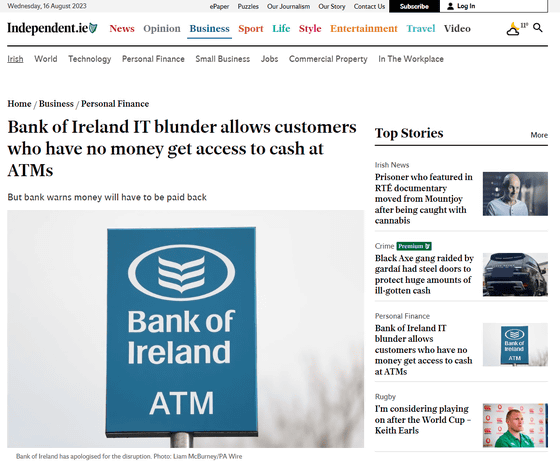 According to local media Independent.ie, a large-scale technical failure occurred in the Bank of Ireland's online app, and if it is linked to the financial app 'Revolut', which provides international money transfer and exchange services, there is no money in the account. It is now possible to send up to 500 euros (about 79,000 yen) to Revolut's account.

Of course, the money that has been remitted due to this mistake does not exist originally, so it is necessary to repay it later. Even on SNS, it was called 'Don't try to withdraw money because you need to pay it back', but in cities such as Dublin, the capital of Ireland, Limerick, Dundalk, etc. A confused pattern was seen here and there.

ATM in Dublin.

Dublin & O'Connell Street 15 mins ago outside bank of Ireland ATM.pic.twitter.com/ShNbGP3JnW

—Jason Roe (@jasonroe) August 15, 2023


ATMs in Dublin were guarded by police and security guards to prevent riots.

Police in Ireland???????? guarding ATM due to the service disruption earlier

2/2

????️Follow & Like for more content???? ️pic.twitter.com/kvdtKyiIm8

—Old News is So Exciting (@OldNews420) August 15, 2023


A movie has been posted where a long line of ATMs has been formed since the morning.

Absolute scenes at Bank of Ireland machines atm!! There's no such thing as free money, and anyone who thinks they'll offer you a payment plan to pay it back was seriously dropped on their heads more than once as a child!! Crumlin and Tallaght #BankofIreland pic.twitter.com/Q91i2iA9l5

— Olive Oil (@haven Agiggle) August 15, 2023


The Central Bank of Ireland is also planning to investigate the cause of this failure, and the Central Bank of Ireland said, ``We are working on a technical failure that is affecting many services, including mobile apps and online systems. We apologize for the inconvenience caused to our customers.'