It is revealed that X (formerly Twitter) is displaying advertising posts without promotion tags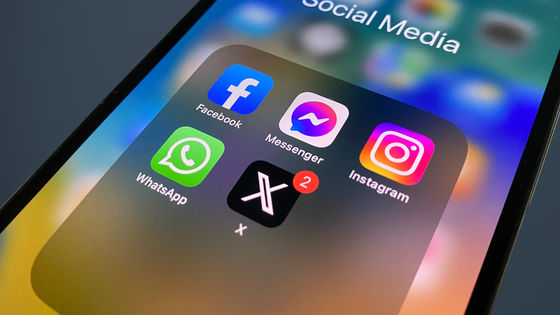 X, which was once popularly known as Twitter, displays advertising posts along with regular posts (tweets) on users' timelines. This advertising post has a tag that says ``Promotion (Ad in the overseas version)'' so that it can be seen that it is an advertisement, but it is known that X is distributing advertising posts even without this tag. It became clear.

X, formerly Twitter, caught running unlabeled ads in users' Following feeds | TechCrunch

https://techcrunch.com/2023/09/08/x-formerly-twitter-caught-running-unlabeled-ads-in-users-following-feeds/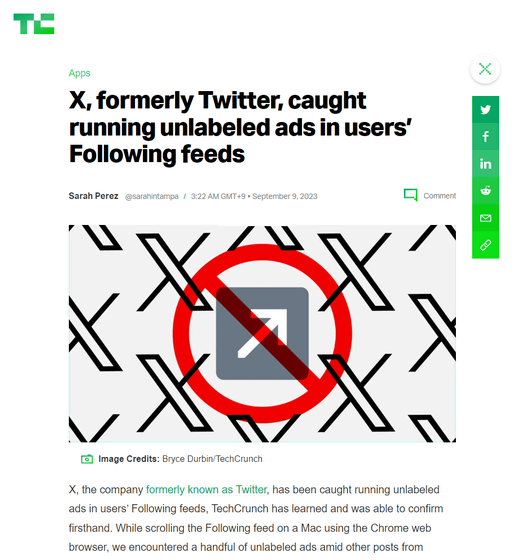 Twitter aka X changes ad labels, makes promoted tweets less obvious | Mashable
https://mashable.com/article/twitter-x-promoted-tweets-new-ad-label-format
In X, a tag written as 'promotion' will be displayed at the bottom left of the advertising post.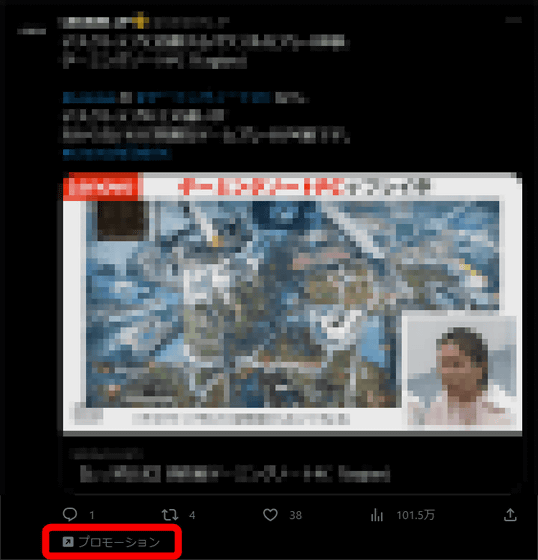 If the display language is English, the tag 'Promoted' was displayed at the bottom left of the post until July 2023.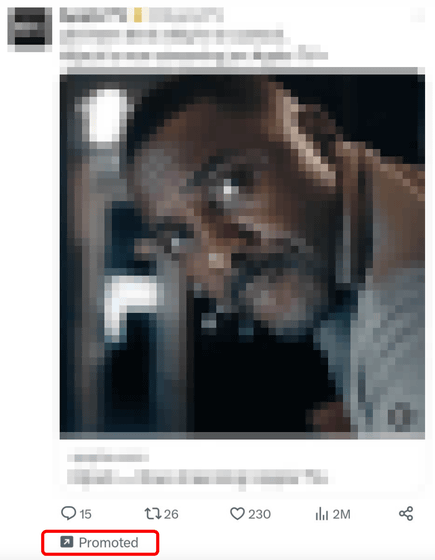 However, this tag disappeared around July 26, 2023, and the tag 'Ad' began to appear in the top right corner of the post instead.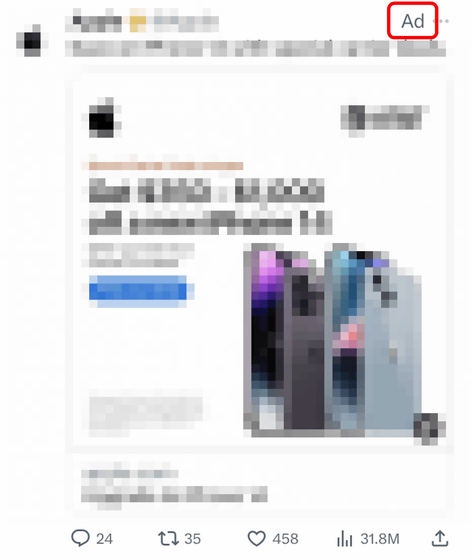 According to overseas media TechCrunch, when you scroll through the X timeline using Chrome on a Mac, you will see various posts, including ad posts without the tag 'Ad' and ad posts with the tag 'Ad' correctly. It seems that both are displayed. TechCrunch points out that the large number of posts with the 'Ad' tag makes it extremely difficult to find advertising posts without the 'Ad' tag.

At the time of article creation, it is unclear whether the reason why there are advertising posts without the 'Ad' tag is due to a 'fault in X's advertising platform' or 'a deliberate change made by X to deceive consumers.' Unknown.

In X, you can use functions such as following an account, adding/removing it from the list, muting, and blocking from the three dots at the top right of the post.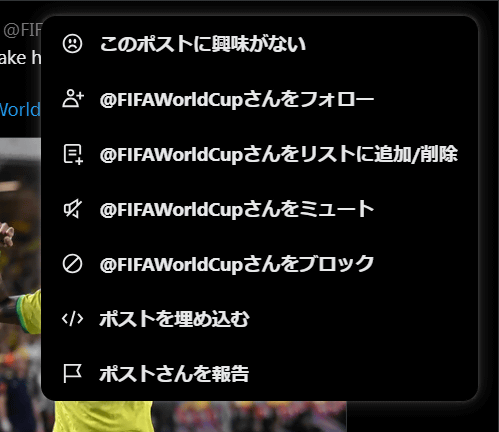 For ad posts, the words 'I'm not interested in this ad' and 'Why you're seeing this ad' will appear at the top of this.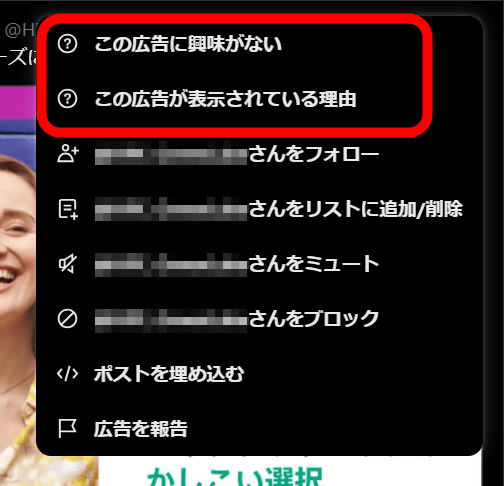 If you click on the three-dot leader on an ad post that does not have an 'Ad' tag, 'I am not interested in this ad' will be displayed at the top of the menu, indicating that it is an ad post even though it does not have a tag.

The post below does not have the 'Ad' tag next to the three dots in the upper right corner.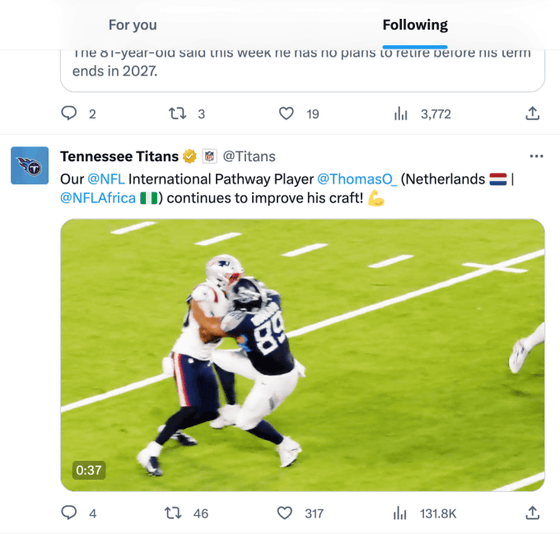 However, when I click on the three dots to open the menu, the messages 'Not interested in this ad' and 'Why this ad?' are displayed. You should be able to see that.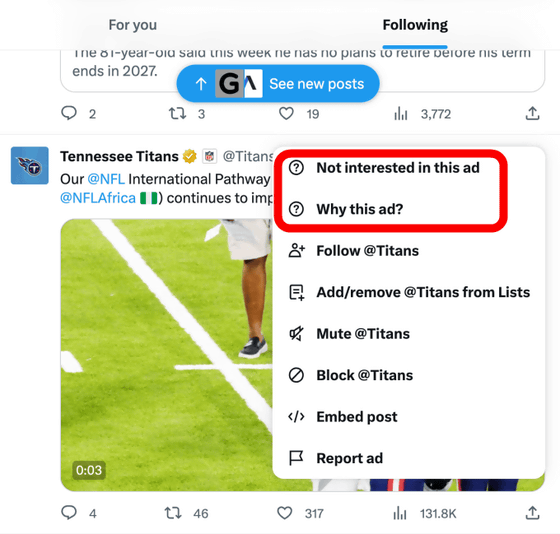 Another post without the 'Ad' tag.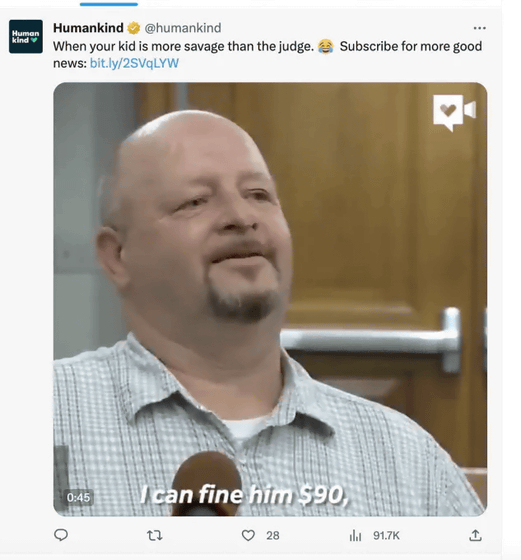 This was also an advertising post.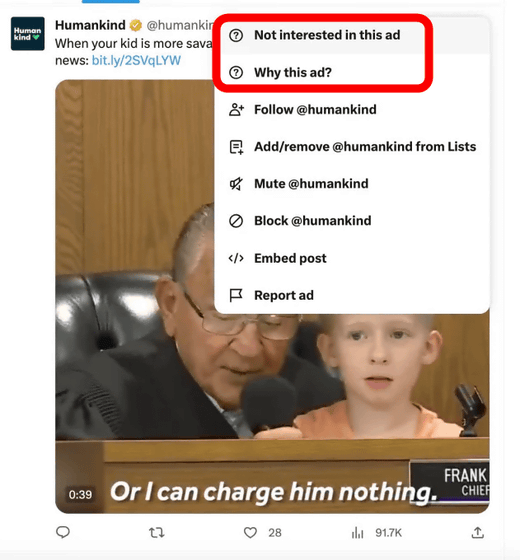 Yet another post.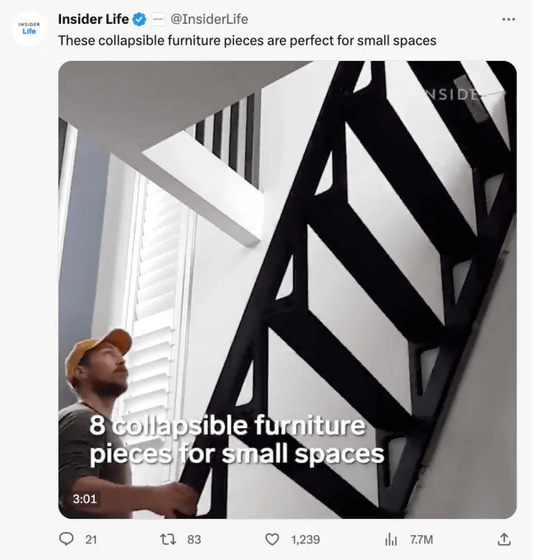 This will also give you the option to 'I'm not interested in this ad.'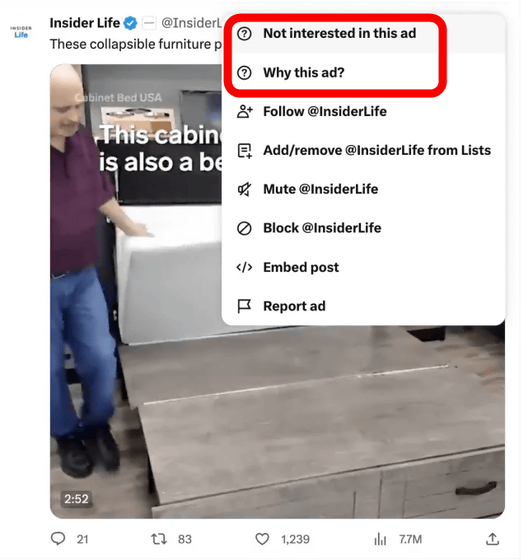 A person who provided information to TechCrunch apparently pointed out that the 'Ad' tag was missing from advertising posts by NFL teams, but TechCrunch's own investigation revealed that the 'Ad' tag was also missing from advertising posts by other companies. It seems that it has been confirmed that it has disappeared. TechCrunch points out, ``This may have occurred in response to X changing the ad tag specifications in July.''

Jeffrey Chester, executive director of the Consumer Group Center for Digital Democracy, said: 'The Federal Trade Commission (FTC) should open an investigation into X's use of stealth advertising. 'We should investigate whether they are involved in fraudulent business tactics.' It also says, 'In addition to imposing fines and other sanctions, we should require X and our advertising partners to take back the data they collect from our users.'

Furthermore, 'Doesn't Elon Musk know that by turning Twitter into what it is now, X, it will never be able to receive effective advertising support on X?' It's important to understand that any attempt to disguise X smacks of economic desperation and is not the best way for advertisers to communicate that X is a 'brand safe site.' , criticizing Mr. Musk.

Adam Schwartz, senior attorney at the Electronic Frontier Foundation (EFF), said: ``Give users control over their social media experience by clearly labeling unsolicited ads to distinguish them from desired content.'' 'If your platform is failing to label your ads, you need to fix this issue.'

Additionally, multiple X users have also pointed out that the advertising posts are not tagged with 'Ad'.

So now we're getting ads in the Twitter timeline that aren't even labeled as 'Ad.' I am not following the Jaguars. pic.twitter.com/Iso9YXCfpM

— el jefe ⎷ on TWITTER (@ThatElJefe) September 1, 2023
We've reached the point where Blue Check posts that are not labeled as ads *for accounts I do not follow* are showing up in my 'Following' tab. pic.twitter.com/hepj5mx3LV

— Warren J. Wells, AICP ???????????? (@WarrenJWells) September 6, 2023
Just got an ad pushed to my feed that *was not labeled as an ad* pic.twitter.com/RwJMYvxGVj

— Big Tobacco St. William (@CorrectWord) September 7, 2023
Who was looking for screenshots of ads in the timeline not being labeled as ads in an open and shut FTC violation? pic.twitter.com/6C6zDKoV2Y

— You Gotta Give (@you_gotta_give) September 7, 2023