Summary of release dates and main new features of Apple device OS such as 'iOS 17' and 'iPadOS 17' released on September 18, 2023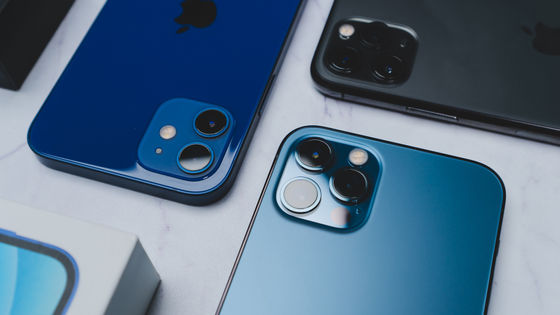 At the iPhone 15 announcement event 'Wonderlust' held in September 2023, Apple announced that it would release the iPhone OS 'iOS 17' and the iPad 'iPadOS 17' on September 18 local time. did. It was also revealed that ``macOS Sonoma'' for Mac will be released the following week on September 26th.

Apple is releasing iOS 17 and iPadOS 17 on September 18th - The Verge

https://www.theverge.com/2023/9/12/23863224/ios-17-release-date-apple-iphone-15-announcement
tvOS 17 to be officially released for Apple TV on September 18
https://9to5mac.com/2023/09/12/tvos-17-homepod-software-17/
watchOS 10 brings widgets to your Apple Watch on September 18
https://www.engadget.com/watchos-10-brings-widgets-to-your-apple-watch-on-september-18-173827349.html
macOS 14 Sonoma will release on September 26, weeks earlier than usual | Ars Technica
https://arstechnica.com/gadgets/2023/09/macos-sonoma-will-release-on-september-26th-weeks-earlier-than-usual/
·table of contents
◆iOS 17
◆iPadOS 17
◆tvOS 17
◆watchOS 10
◆macOS Sonoma
◆iOS 17
iOS 17
is an OS that was announced at the developer event '
WWDC 23
' in June 2023, and includes new features such as 'standby mode' that turns a charging iPhone into a smart display, and the ability to display calls to the answering machine. It includes features such as 'Live Voicemail' which transcribes messages in real time.
IT news site The Verge reported that iOS 17 will be available for general download from September 18th. Compatible models are as follows.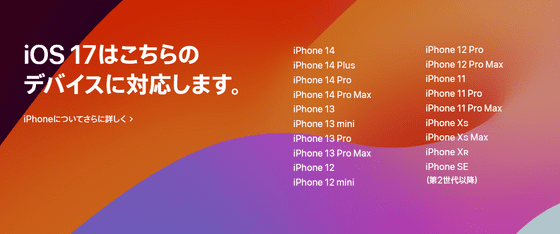 ◆iPadOS 17

iPadOS 17
, like iOS 17, will be generally available on September 18th. The main changes include customizing the lock screen and adding widget placement functionality. Compatible models are as follows.



◆tvOS 17
On September 18th, tvOS 17 for Apple TV and HomePod Software 17 for smart speaker HomePod will also be released. According to IT news site 9to5Mac, tvOS 17 includes a redesigned Control Center for Apple TV, and for the first time adds the ability to find the Siri Remote, a remote control for Apple TV. is.

◆watchOS 10

watchOS 10
for Apple's smart watch 'Apple Watch' will also be released on September 18th.
watchOS 10 adds a ``Palette'' that uses three overlapping layers to represent the time in various colors, and two ``Snoopy'' dials that feature Snoopy and Woodstock on the watch.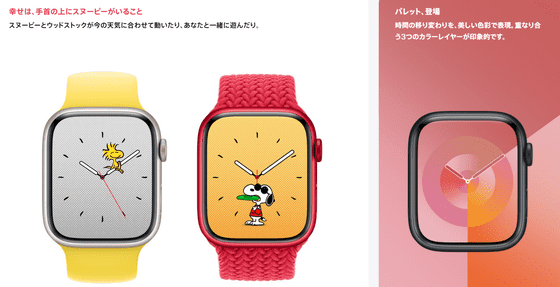 Compatible models are as follows.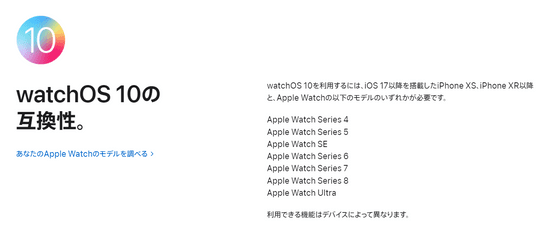 ◆macOS Sonoma
macOS Sonoma for Mac will be delivered on September 26th, a little later than iOS etc. According to the overseas site Ars Technica, this is the first time since macOS Mojave in 2018 that a macOS update will be released in September instead of October.

Ars Technica describes macOS Sonoma as a 'modest release,' but it does include some notable features, including desktop widgets that can sync with your iPhone, improved screen sharing, a revamped screen saver, and an improved password manager. .

Compatible models are as follows.