iPhone 15 will be the first ``Indian-made iPhone'' to be distributed from the day of release, Apple's efforts to break away from dependence on China for manufacturing will bear fruit


Apple has manufactured most of its products at factories in China for many years, but in recent years it has been working to establish manufacturing bases outside of China to diversify risks. Meanwhile, it was reported that the new
iPhone 15
, which was announced on September 13, 2023, Japan time, will be the first ``Indian-made iPhone'' to be sold from the day of its release.
Apple to Sell Made-in-India iPhones on Launch Day for First Time - Bloomberg
https://www.bloomberg.com/news/articles/2023-09-12/apple-to-sell-made-in-india-iphones-on-launch-day-for-first-time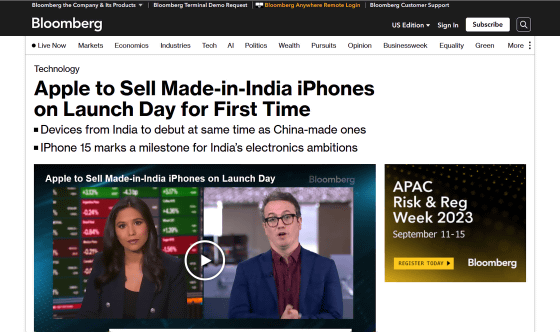 Apple is selling India-made iPhones at launch for the first time - The Verge
https://www.theverge.com/2023/9/12/23869727/apple-iphone-15-india-production-supply-launch-china
Apple's first made-in-India iPhone 15 to sell globally on launch day: Report | Digit
https://www.digit.in/news/mobile-phones/apples-first-made-in-india-iphone-15-to-sell-globally-on-launch-day-report-68945.html
Many Apple products are manufactured by companies such as China-based
Foxconn
and Taiwan's
Pegatron
, and most of their factories are located in China. According to analysts, more than 90% of Apple products such as iPhones, iPads, and MacBooks are manufactured in China.
In November 2022, Foxconn's factory in Zhengzhou, Henan Province, China, which employs approximately 200,000 people, was closed for seven days due to the Chinese government's '
Zero Corona Policy
' lockdown. This
caused a significant delay
in the supply of iPhone 14 Pro/Pro Max, leading to a situation where employees and authorities clashed.
Workers and authorities clash during large-scale demonstration at iPhone factory in China - GIGAZINE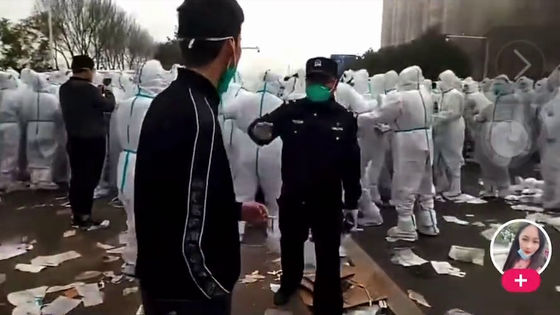 As this example shows, the concentration of manufacturing bases in one country carries geopolitical risks. Therefore, Apple has been
planning to expand its production base outside of China
in order to diversify risks, and in recent years there has been a move to establish a manufacturing base in India. India has a '
Make in India
' policy that provides preferential tariffs to foreign companies that manufacture products in the country, and locating a manufacturing base in India will also benefit Apple in terms of tariffs. Masu.
iPhone manufacturing in India, which started in 2017, has gradually progressed, and at first only older models were manufactured in India, but in 2020 manufacturing of the main iPhone also began. In addition, the manufacturing time of the main iPhone was at one time delayed by 6 to 9 months compared to Chinese factories, but with the iPhone 14, the delay has been reduced to just a few weeks, and as of 2023, the production time will
be approximately 7% of iPhone production. is reportedly manufactured in India
.
And with the iPhone 15, which is scheduled to be released on September 22nd, Japan time, foreign media Bloomberg reported that for the first time in history, an Indian-made iPhone will be sold from the day of release. A person familiar with the matter testified that the Indian-made iPhone 15 will be distributed in India and other South Asian countries.
It is reported that Foxconn's factory in
Sriperumbudur, Tamil Nadu
, India has
already started manufacturing the iPhone 15 in August
. However, the distribution of Indian-made iPhones may be slightly delayed due to unexpected logistics bottlenecks.
Technology media The Verge says, ``It is important for Apple to reduce the production gap between iPhone factories in China and India. They need reliable alternative manufacturing locations that can withstand geopolitical issues and local labor disputes, and comply with the Indian government's Make in India law, which represents a huge untapped market for Apple. It also allows them to avoid high customs duties on products sold within India.'