Distribution of 'iOS 17' has started, including major updates to phone calls, messages, FaceTime apps, addition of standby function, etc.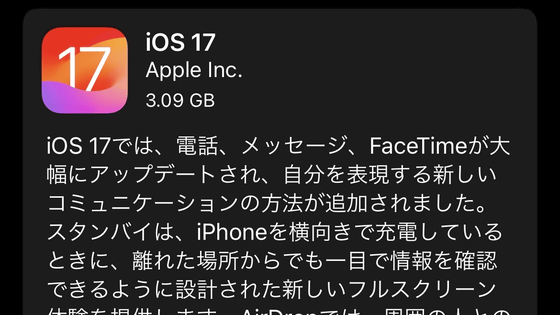 Distribution of the latest OS for iPhone '
iOS 17
' announced by Apple at
WWDC23
has started. It's the software update that adds the most new features in a year, and it's packed with content.
iOS 17 available today - Apple (Japan)
https://www.apple.com/jp/newsroom/2023/09/ios-17-is-available-today/
iOS & iPadOS 17 Release Notes | Apple Developer Documentation
https://developer.apple.com/documentation/ios-ipados-release-notes/ios-ipados-17-release-notes
iOS 17 update now available for iPhone with better autocorrect, StandBy, interactive widgets, much more - 9to5Mac
https://9to5mac.com/2023/09/18/ios-17-now-available/
◆Details of iOS 17
iOS 17 has a capacity of 3.09GB, and includes major updates to genuine Apple apps such as Phone, Messages, and FaceTime. Details of the update are below.
phone
- Contact Poster allows you to customize how you appear on other people's devices when you call them
message
The iMessage Stickers app shows all your stickers in one place, including live stickers, Memoji, Animoji, emoji stickers, and third-party sticker packs.
・With live stickers, you can extract the subject from a photo or video and add effects such as 'glitter', 'puffy', 'comic', 'outline', etc.
- Arrival Confirmation automatically sends notifications to family and friends when you arrive safely at your destination, and shares useful information if you're late.
-You can read the received audio message on the spot using the phonetic notation and listen to it later.
- Improved search functionality allows you to find messages faster by combining search filters such as contacts, keywords, and content types (photos, links, etc.)
- Swipe the speech bubble to the right to transform it into a message inline.
- One-time verification code deletion feature automatically deletes verification codes from the Messages app when they are auto-entered into other apps.
FaceTime
When the other person doesn't answer your FaceTime call, record a video or audio message to say exactly what you want to say.
・You can now enjoy FaceTime calls on Apple TV using your iPhone as a camera (Apple TV 4K 2nd generation or later)
・You can add 3D effects reactions such as hearts, balloons, and confetti around you during video calls using gestures.
Adjust the intensity of studio lighting and portrait mode using video effects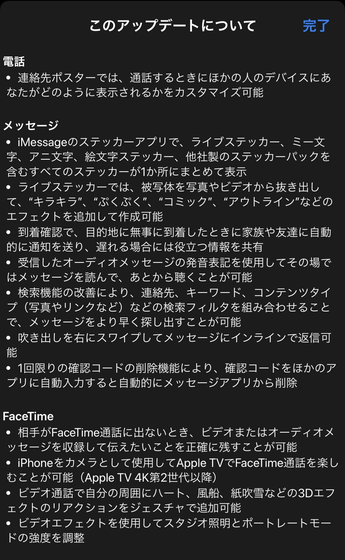 stand-by
- Provides a full-screen experience with clock, photos, widgets, and more designed to let you see information at a glance from a distance while charging your iPhone horizontally on your nightstand, kitchen counter, or desk.
・"Clock" can be personalized using various styles such as digital, analog, solar, floating, world clock, etc., as well as accent colors.
- Automatically shuffle your best shots in Photos or display specific albums of your choice
・Widgets allow you to quickly access information, and smart stack display provides the right information at the right time.
- Night mode displays clocks, photos, and widgets in red tones when the surroundings are dark
・Priority display function for each MagSafe charger remembers the clock, photo, and widget display settings for each MagSafe charging location

widget
- Interactive widgets allow you to tap directly on the home screen, lock screen, or standby widget to perform actions such as marking a reminder as complete
・With iPhone Widgets on Mac, you can add widgets from your iPhone to your Mac desktop.

AirDrop
・With NameDrop, you can exchange contact information with someone you just met by simply bringing your iPhone close to them.
- A new way to start AirDrop that allows you to share content or start a SharePlay session with AirDrop by bringing your iPhone closer.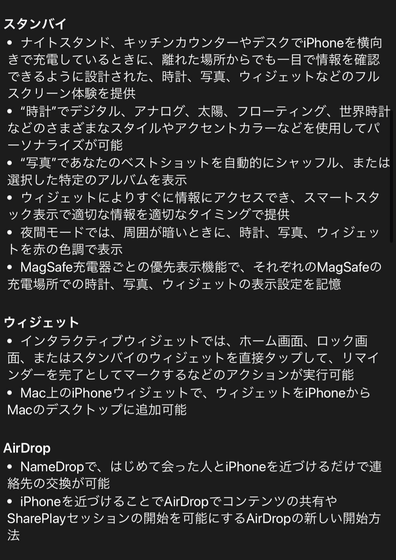 Safari and passwords
. Profiles allow you to browse by themes such as work and personal, and separate history, cookies, extensions, tab groups, and favorites.
- Improved Private Browsing to lock the Private Browsing window when not in use, prevent known trackers from loading, and remove tracking identification from URLs.
・Password and passkey sharing allows you to create groups of passwords and share them with trusted contacts, allowing changes made by group members to be reflected.
- A feature that automatically enters a one-time verification code from your email into Safari, allowing you to log in without leaving your browser.

Music
・Anyone in your company can easily control and play Apple Music using SharePlay.
・Crossfade allows the currently playing song to fade out and the next song to fade in, so you can smoothly switch between songs without interruption.

AirPlay
- Artificial intelligence-powered AirPlay device list sorts devices based on user preferences, making it even easier to find the right AirPlay-enabled TV or speaker.
- AirPlay device connection suggestions will be displayed in advance as a notification, allowing you to connect to your preferred AirPlay device more seamlessly.
Automatic AirPlay device connection occurs between your iPhone and the most relevant AirPlay-enabled device, so you can start watching content by simply tapping "Play"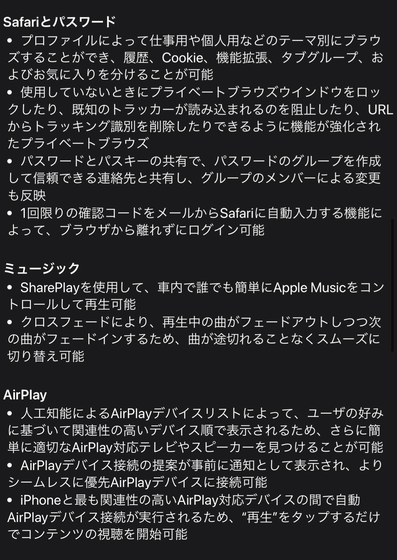 AirPods
- Adaptive audio provides a new listening mode that dynamically blends active noise cancellation and external sound capture mode for a noise control experience tailored to your surroundings (AirPods Pro with firmware version 6A300 or later) 2nd generation))
Personalized volume adjusts media volume to suit your surroundings and long-term listening preferences (AirPods Pro (2nd generation) with firmware version 6A300 or later)
- Conversation detection reduces ambient noise, lowers media volume, and emphasizes the voice of the person in front of you (AirPods Pro (2nd generation) with firmware version 6A300 or later)
・During a call, you can mute and unmute the microphone by pressing the stem of AirPods or the Digital Crown of AirPods Max (AirPods (3rd generation), AirPods Pro (1st and 2nd generation), or firmware version 6A300) AirPods Max)

map
・Offline maps can be used when your iPhone is unable to use Wi-Fi or mobile communication services by downloading a wealth of information about the places you want to go to, search for, or explore in advance.
・Improved electric vehicle routes to display routes based on real-time usage of compatible charging stations

Examine the image
The fields supported by "Look up images" have been expanded, allowing users to look up similar recipes from food photos, look up "map" information from store photos, and look up the meanings of signs and symbols such as laundry signs. possible to
- You can extract multiple or single subjects from the background of a photo or video and add them to apps such as Messages.
- You can use "Inspect Image" in videos to investigate objects in a paused video frame.
・You can use "Inspect Image" on the subject of a photo to directly check information about the subject extracted from the photo from the callout menu.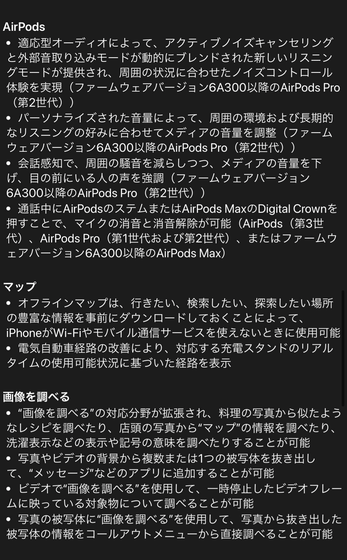 Healthcare
・When reviewing your "state of mind," you can record your temporary emotions and daily mood, select factors that are affecting you, and check how you feel.
- Interactive feature allows you to see how your state of mind has changed over time, and which factors have the greatest influence, such as exercise, sleep, and mindful time.
A mental health assessment can help you understand your current risk of depression or anxiety and whether you should seek support.
Screen Distance leverages the TrueDepth camera, also used in Face ID, to encourage children to look further away when looking at their devices, reducing digital eye strain and the risk of myopia in children. Possible

privacy
- Prevent users from unexpectedly seeing images containing nudity in Messages, AirDrop, Phone app contact posters, and FaceTime messages by enabling Sensitive Content Warning
- Expanded protections for children through Communication Safety, which includes nudity-containing images that children may send or receive in Messages, AirDrop, Phone app contact posters, FaceTime messages, and the system's photo picker. In addition, video can also be detected.
- Improved sharing permissions, giving you more control over what is shared with the app with an embedded photo picker and add-only "calendar" permissions
Link Tracking Protection removes extraneous information that some websites also use to track you from links shared in Messages, Mail, and Private Browsing in Safari, while keeping the links functional.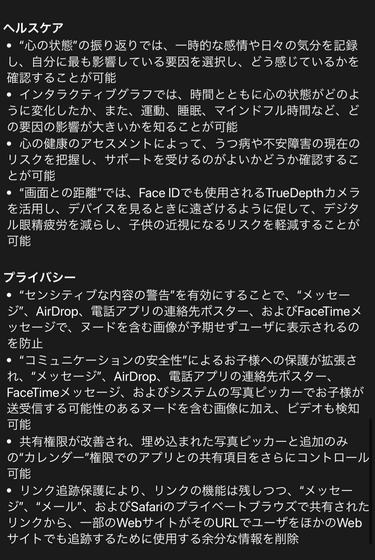 accessibility
- Assistive access provides only essential app features for Phone & FaceTime, Messages, Camera, Photos, and Music, reducing cognitive load with larger text, visual alternatives, narrowed choices, and more
・With Live Speech, you can type what you want to say and have it read out loud on your phone, FaceTime call, or face-to-face conversation.
・Using the 'point-to-speech' detection mode of 'Magnifier', the text of objects with small text displays, such as door keypads and home appliance buttons, can be read out on the iPhone.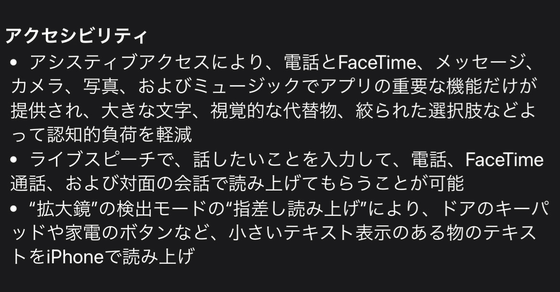 This release also includes the following features and improvements:

・Use "Pets" in the "People" album in "Photos" to identify pets in the album as well as friends and family.
・With the "Photo Album" widget, you can select a specific album from the Photos app to display in the widget.
・With "Find" inventory sharing, you can share AirTags or "Find" network accessories with up to 5 people.
- See recent history for door locks, garage doors, security systems, and contact sensors in your "Home" activity history
- When you add an item to the "Reminder" shopping list, related items are automatically grouped into sections.
・PDFs and scanned documents embedded in "Memo" are displayed at the width of the screen, allowing you to easily view and add annotations.
New Memoji stickers on the keyboard, including a smiling face with an angel halo, a grinning face, and a face peeking out from behind a freshly spread face.
・When you search for an app using Spotlight, shortcuts to the next action will be displayed in the top hits.
- A new 'Share' tab in Fitness now highlights your friends' activities, including workout streaks and badges.
・You can sign in to your iPhone using the email address or phone number registered to your Apple ID account.
・New drawing tools such as fountain pen, watercolor brush, and ruler have been added to Freeboard to create expressive boards.
- Optimization of collision detection (iPhone 14, iPhone 14 Plus, iPhone 14 Pro, iPhone 14 Pro Max)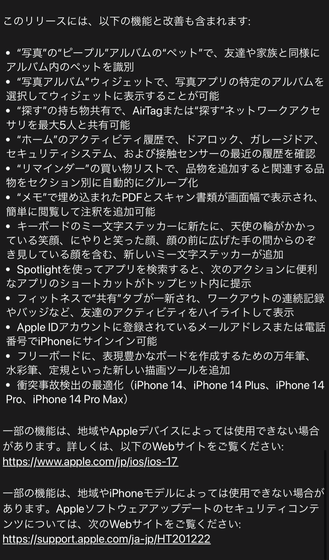 ◆Update procedure
Open the iPhone's Settings app, tap 'General' → 'Software Update', and tap 'Upgrade to iOS 17' at the bottom of the screen.



Tap 'Download and install'.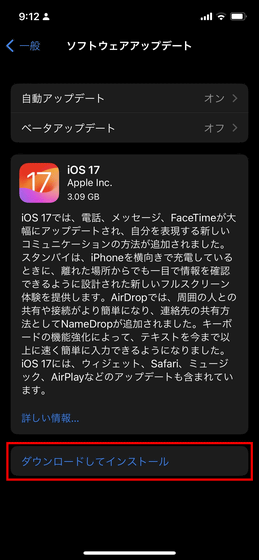 Tap 'Agree'.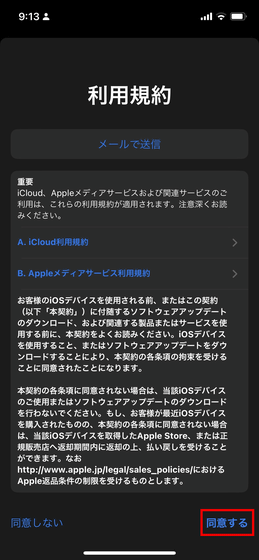 Tap 'Agree' again.



The update preparation is now complete. After the update data has been downloaded, the update installation will start automatically.

At the same time as iOS 17, Apple has also started distributing iPadOS 17 and watchOS 10.

iPadOS 17 now available - Apple (Japan)
https://www.apple.com/jp/newsroom/2023/09/ipados-17-is-now-available/

watchOS 10 available today - Apple (Japan)
https://www.apple.com/jp/newsroom/2023/09/watchos-10-is-available-today/