The number of new Bluesky registrations is the highest ever after Elon Musk's statement about paying for X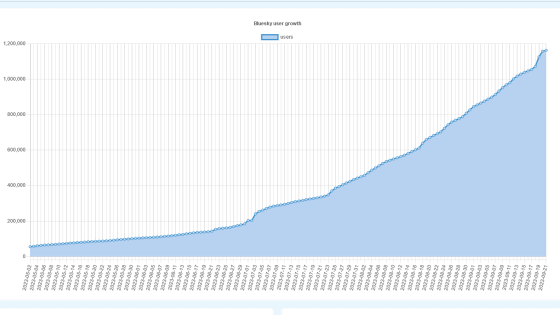 On September 18, 2023, Elon Musk said
, ``We are moving toward charging a small monthly fee for using the X system,'' and
there are concerns that X (formerly Twitter) will charge a fee. The observation quickly spread. In response to Mr. Musk's remarks, many X users seem to have considered switching SNS, and on the same day, the SNS similar to X,
Bluesky
, recorded the largest number of new registrations since the service started.
Bluesky User Absolute and % Growth
https://vqv.app/stats/chart
In a conversation with Israeli Prime Minister Benjamin Netanyahu on September 18, 2023, Mr. Musk said that the only way to reduce the number of BOTs operating on X is to ``charge a small monthly fee for using the X system.'' 'We are transitioning,' he said. In addition to being streamed live on X, the conversation was also available for viewing even after the conversation ended, leading to the observation that ``Mr. Mask is trying to make X a paid service'' all over the world.
Elon Musk says, ``We will charge for X (formerly Twitter)'' - GIGAZINE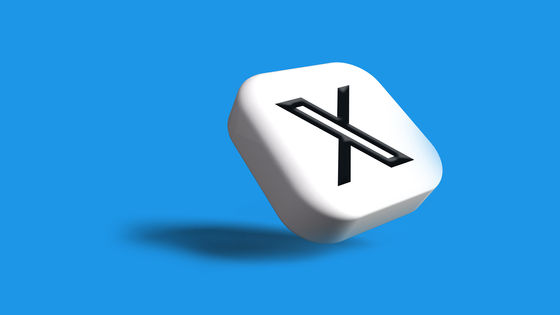 It seems that many users thought about moving from X to another SNS in response to Mr. Mask's remarks, and the number of new user registrations for Bluesky, a free SNS that can be used with a similar operation to X, has increased dramatically. It happened.
If you check
Bluesky Statistics
, a website that summarizes the number of Bluesky posts and users, you can see that the number of users increased rapidly on September 18, 2023, when Mr. Mask made his remarks.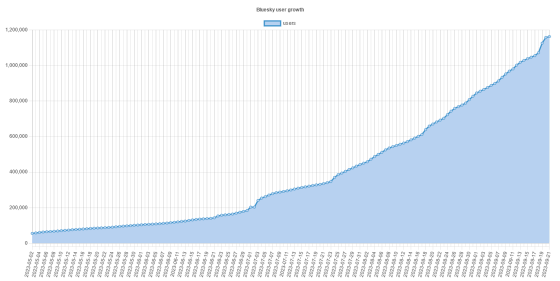 When you zoom in around September 18, 2023, it looks like this. Specifically, on September 18, 2023, the number of users was 1,071,682, but on September 19, 2023, the number of users increased to 1,125,267. In other words, 53,585 new users registered after Mr. Musk's statement.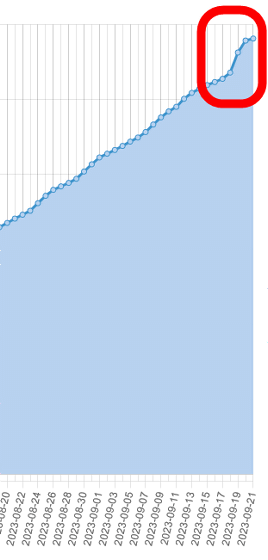 Bluesky was developed as a reference implementation of the decentralized SNS protocol `` AT Protocol '', which is being developed with the aim of creating an ``ecosystem that allows users to migrate to another SNS while retaining posted content and follow information''. In the future, users will be able to freely move between SNSs that use AT Protocol, similar to decentralized SNSs such as Mastodon. Although the ecosystem that Bluesky is aiming for is quite different from X, the operation feel and timeline appearance are quite similar to X, so you can switch from X without feeling any discomfort. The following article provides a detailed review of what kind of SNS Bluesky is.

'Bluesky' account creation procedure & review like this when actually using it, it is very similar to Twitter, so it is a good place to transfer / move - GIGAZINE



Bluesky has been attracting a lot of attention from users considering switching from X because it can be used with a similar operating feel to X, and when the limit on the number of tweets that can be viewed on the old Twitter was implemented in July 2023, it also became a new service. There was a situation where the server went down due to too many registrants. Although there were a large number of new registrants this time as well, there were no reports of server downtime, so it seems that the Bluesky management team was successful in taking measures such as increasing the server.

SNS 'Bluesky', which is attracting attention as a destination for switching to Twitter, temporarily suspends new user registration due to an explosion in server load, possibly due to a continuous increase in new subscribers due to restrictions on the number of Twitter views - GIGAZINE